2fff Heads of La Chaire Arts & Sciences
Samuel Bianchini

Co-head of La Chaire Arts & Sciences, École des Arts Décoratifs – PSL.
Artist-teacher-researcher, assistant professor accredited to supervise PhD students, head of the "Reflective Interaction" group at EnsadLab.
Samuel Bianchini believes in the principle of "operational aesthetics." He studies the relationships that exist among our most forward-looking technological systems, our forms of representation, our new forms of aesthetic experiences, and our socio-political organizations. To this end, he works with numerous scientists and research laboratories in the natural sciences and engineering. His work is regularly exhibited in Europe and around the world. It puts into motion physical and symbolic operations, in context, in public, and in real time, thereby encouraging us to contemplate, to reflect, as well as to act. He is a member of PSL's SACRe (Sciences Arts Creation Research) research lab (Équipe d'accueil) and an associate member of the Canadian research-creation network Hexagram and the Cluster of Excellence Matters of Activity of Humboldt Universität zu Berlin.In close connection with his research and artistic practice, he has undertaken theoretical work that leads to frequent publications with Éditions du Centre Pompidou, MIT Press, Analogues, Media-N-Journal of the New Media Caucus, Hermes, Les presses du réel, Springer, and others.
He is recognized as a key figure in the development of research-creation internationally and published one of the first books on the subject in France: Recherche & Création. Art, technologie, pédagogie, innovation [2009, 2012]. It's against this backdrop that Samuel Bianchini initiated and is developing, with La Chaire Arts & Sciences, an original multi-media magazine project based on images: .able.
Find out more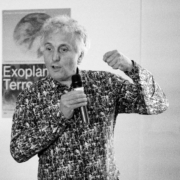 Jean-Marc Chomaz
Co-head of La Chaire Arts & Sciences, École Polytechnique.
Artist-physicist, professor at École Polytechnique, Director of Research at the French National Centre for Scientific Research (CNRS), co-founder of the LABOFACTORY collective.
Since 1990, Jean-Marc Chomaz has been involved as a researcher in "arts and sciences" projects in collaboration with artists from all disciplines and has created his own works as an "artist-physicist." Rather than adopting a deductive or demonstrative approach, his works present a human and sensitive dimension of physics, which allows for transgressions, metaphors, different interpretations, and veiled references. The goal: to build a universe where the spectators can invent their own path.

The aim of this artistic approach is to change the opinions and position of the expert by opening up other paths that—rather than being limited to "proof"—leave room for intimate conviction and intuition and question scientific myths and beliefs, especially so that we can think collectively about the challenges of climate change.

Jean-Marc Chomaz was awarded the 2007 CNRS Silver Medal and the 2012 Ampère Prize. He is co-founder of the Hydrodynamics Laboratory of École Polytechnique, the LaSIPS Laboratory of Excellence, La Diagonale Paris-Saclay, and the LABOFACTORY arts-sciences collective.
Find out more
The 2fffffffff Daniel and Nina Carasso Foundation

Anastassia Makridou-Bretonneau
Head of the "Citizen Art" component

Anastassia Makridou-Bretonneau studied Art History at the University of Aristotle in Thessalonika and at the University of Human Sciences in Strasbourg. She was also a student at École du Magasin in Grenoble. After working as a curator at the Municipal Gallery of Thessaloniki, she joined the CCC team and then directed Eternal Network, an artistic production and distribution organization in Tours.
She has also headed implementation of the "New Patrons" action proposed by Fondation de France for Western France and has supervised the commissioning of many artistic projects in very diverse contexts, with artists such as Tadashi Kawamata, Claude Lévêque, Xavier Veilhan, and Jean-Luc Vilmouth. She has also organized several exhibitions in monograph form (e.g., Michel Blazy, Sarkis, Ange Leccia, Delphine Reist, Berdaguer & Péjus) and collective exhibitions (e.g., Sur Scène, the Les Nuits trilogy).Following a two-year stay in Chile, she participated in the creation of Contexts, a design office and exhibition space in Paris. She then became co-director of Bureau des Compétences et Désirs in Marseille, where she managed an exceptional program of nine artistic commissions as part of the Marseille-Provence 2013, European Capital of Culture project. At the Daniel and Nina Carasso Foundation, Anastassia Makridou-Bretonneau has been in charge of the "Citizen Art" component since May 2014.
Marion Desmares
Program Manager – "Citizen Art"

Immediately after graduating in audiovisual communication with a specialization in cinema, Marion Desmares went off to discover different cultures for a year, which included participation in a humanitarian program in Cameroon. After her return to France, she joined Fondation de France, then later the Carasso Foundation.
Find out more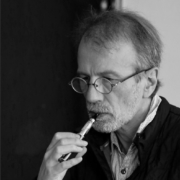 Didier Bouchon
Research-creation engineer
Didier Bouchon is a research-creation engineer and a pioneer in video games and 3D systems. After studying biology and obtaining a diploma in applied arts from École Boulle, he became interested in computer programming, electronics and graphics. He participated in designing the first video games. In collaboration with Philippe Ulrich, he designed "L'Arche du Capitain Blood" (1988, Ère Informatique). In 1992, he helped develop the video game "Dune," inspired by the film by David Lynch. He has worked with many artists since 2002.

Since 2014, he has been involved in research-creation engineering for the Reflective Interaction group of EnsadLab, in particular in modular robotics with the development of MisB-KIT, a hardware and software package for experimenting and prototyping behavioral objects. He is pursuing these activities within La Chaire Arts & Sciences, through the pooling of systems for artistic productions or workshops.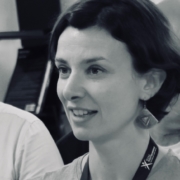 Julie Sauret
Communication Manager and Project Coordinator
Following 15 years of experience in communication and coordination of cultural, academic, and not-for-profit projects in France and abroad, Julie Sauret joined La Chaire Arts & Sciences in 2018. She holds a double degree in cultural management and political thought from Sciences Po.
She has worked in Armenia as cultural attaché for cultural and university networking, at Campus France as head of university exchanges, and at the cultural department of the French Ministry of Foreign Affairs. She has also worked as a consultant at communication and audiovisual production agencies.Julie Sauret has been involved with cultural and anti-discrimination associations. She led a feminist art collective from 2009 to 2013. Her role at La Chaire Arts & Sciences enables her to combine her interests in multidisciplinary academic research, artistic action and civic commitment.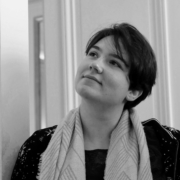 Gwenaëlle Lallemand

Coordinator of the art, design & science magazine .able.
After receiving her master's degree in art management and cultural and creative industries from KEDGE Business School, Gwenaëlle Lallemand specialized in project management in the interdisciplinary field of arts, sciences, and societies.
She first worked at EnsadLab for La Chaire Arts & Sciences as an assistant in communication, production, and partnerships, notably for the launch event "We Are Not the Number We Think We Are" (2017-2018). She then joined ELEKTRA Montreal as production assistant for the International Digital Art Biennial (BIAN 2018) and project manager for the International Digital Art Market (MIAN 2018). She then became coordinator of the Paris-area arts-sciences network Exoplanète Terre before returning La Chaire Arts & Sciences in 2020 to coordinate the journal .able.
Associate 2ffffffff researchers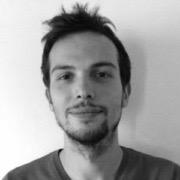 Alexandre Dechosal

Graphic designer
Alexandre Dechosal has a special interest in digital media and graphic design. He joined École Supérieure d'Art et Design of Valence, France, in 2007, where his research focused on the mobility of graphic interfaces. He then joined EnsadLab in 2012. As a member of its Reflective Interaction research group, he participated in several projects, including "Surexposition," the application for which he designed the identity and interface.
A freelance graphic designer since 2015, he continues to work closely on the Reflective Interaction project, for which he has participated in the interface of the MisB Kit, identity and user interface variations of "Mobilizing-js, Discontrol Party #3," and the identity and design of the Reflective Interaction research group website. This work has led La Chaire Arts & Sciences to invite him to participate in various projects, such as the development of an interactive cartography of arts-design-sciences journals and the redesign of its website interface.
Find out more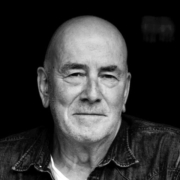 Antoine Desjardins
Committed for numerous years in fine art on topics around sculpture and its making up, his various subjects use tensions between cultural values and natural organizations which are disclosed by graphic and photographic images. Following a master on « The use of plastic materials in art » in the University of Provence Aix-Marseille (1980), Antoine Desjardins reside and work in New York city from 1981 to 1990. He is currently installed in Paris where he carries on with his work pursuing a reflexion on the influence of digital tools and language in the process of form creation in fine art.He dedicates to art teaching since 1993, favouring the evolution of representation systems and production means. He founded workshops of digital practice in sculpture and object in the national schools of art of Nancy and Limoges.Since 2015, he has been coordinating research and creation modules at Ensad in the Bachelor's and Master's programs and is involved in issues related to 3D-4D printing within the Reflective Interaction group at Ensadlab, with the support of the Chaire arts & sciences.
Find out more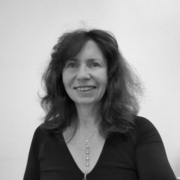 Carole Écoffet

Physicist and researcher at the French National Centre for Scientific Research (CNRS)
At the CNRS, Carole Écoffet is a research fellow at the Institute of Materials Science in Mulhouse, France. At EnsadLab, she analyzes the practices of artists who work in collaboration with exact science laboratories. Her laboratory research concerns light/matter interactions and the use of new materials in art.
She also has an interest in the relationship between scientific knowledge and the imaginary, which has led to her involvement in various La Chaire Arts & Sciences projects, such as programming for the "Garden the Sky Water" symposium and the "Behavioral Matter" interdisciplinary workshop at the Centre Pompidou in 2019.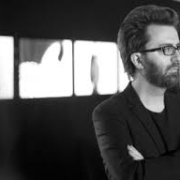 Emanuele Quinz

Art historian and curator
Emanuele Quinz holds a doctorate in Aesthetics. He is an assistant professor at Université de Paris VIII, teacher-researcher at Ensad, and member of the Reflective Interaction group at EnsadLab. His research explores the points where disciplines in contemporary artistic practices converge: from visual arts to music, and from dance to design and fashion. He also regularly lectures at other universities and art schools, such as Sciences Po, UQAM Montreal, Accademia Nazionale di Belle Arti Brera, NABA in Milan, and HEAD – Geneva.
Emanuele Quinz is Head of the research program "Behaviors. Behavioral objects between art, science and design" funded by Labex ARTS-H2H (in partnership with EnsAD), the industrial prospects service of the Centre Pompidou, and the Chart-Lutin laboratory of Université de Paris 8 – Cité des Sciences et de l'Industrie. He has also been in charge of publications for Labex ArtsH2H since 2012 and has curated several international design exhibitions.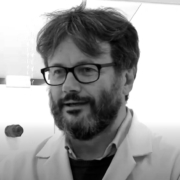 Giancarlo Rizza
Researcher at the French Alternative Energies and Atomic Energy Commission (CEA) and at the Irradiated Solids Laboratory (LSI) at École Polytechnique, is a member of the steering committee of La Chaire Arts & Sciences.
He created and directed the Interdisciplinary Microscopy Center at École Polytechnique (CimeX) and was its director for 10 years (2009-2019). He is a member of the international committee of the Radiation Effects in Insulators (REI) committee, of the national research group NACRE (Nanocrystals in dielectrics for electronics and optics) and of La Chaire Arts & Sciences. He has also worked with the International Atomic Energy Agency (IAEA) on Coordinated Research Projects (CRPs).
His research focuses on the nanostructuring of composite materials at the micro- and nano-scale and on the additive manufacturing of intelligent and functional materials (4D printing). He works in disseminating art and science practices in the fields of science of matter.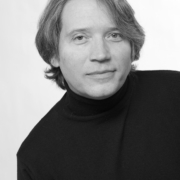 Christopher Robinson
Assistant Professor of English at École Polytechnique, member of its interdisciplinary lab (LinX), the steering committee of La Chaire Arts & Sciences, and the Identities, Cultures and Histories Research Group (GRICH).
His recent and forthcoming publications include "Dune : Un Mélange Historique, Politique et Romanesque" in Dune: Exploration scientifique et culturelle d'une planète-univers (Belial, 2020); "Cyborgs, Utopias and Other Science Fictions" in In/Search Re/Search: Imagining Scenarios through Art and Design (Valiz, 2020); "Style et Xénophobie" in H.P. Lovecraft au prisme du XXIe siècle (Le Visage Vert, 2021); and "The Progeny of H.R. Giger" in Alien Legacies (Oxford University Press, 2021). In addition, he is co-editor of two collective works: The Legacies of Ursula K. Le Guin: Science, Fiction, Ethics (Palgrave Macmillan, 2021); and 2001 : l'Odyssée de l'Espace, au carrefour des arts et des sciences (Éditions de l'École polytechnique, 2021).
He is currently co-organizer of a conference dedicated to Ridley Scott's "Blade Runner" co-organized by La Chaire Arts & Sciences and the Némo Biennial of Digital Arts (November 2021), as part of the "Exploring the Invisible" event developed by the Exoplanète Terre network.
Doctoral students in the 2ffffffffff arts and sciences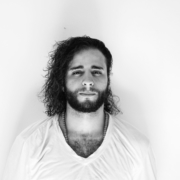 Brice Ammar-Khodja
Graphic designer and visual artist, doctoral student | École des Arts Décoratifs – Concordia
Brice Ammar-Khodja's work lies at the crossroads of digital arts, science of materials, and the anthropology of the senses. He is currently working on a thesis, "(Im)material Frictions," co-supervised by the Individualized Program of Concordia University in Montreal and the Reflective Interaction research group at EnsadLab, as part of the Sciences, Art, Creation, Research (SACRe) program. His doctoral research is supported by La Chaire Arts & Sciences.

His doctoral work seeks to establish new relationships with "living" forms and aims to bring into dialogue the behavior of matter, "responsive" materials, and urban data in order to explore the symbolic, spatial, sensory, and socio-environmental issues between the immateriality of information and its perceptible representations. To this end, he positions his research-creation in the context of "resilient cities": by exploring various material means to increase perception of data related to the quality of the environment (air quality, temperature variations and noise pollution) he hopes to strengthen the perceptive relationships between citizens and their living environments.

Brice is Co-director of the typography magazine "Pied de Mouche". He is also involved in the creation of educational workshops and develops tools for children and the general public.
Find out more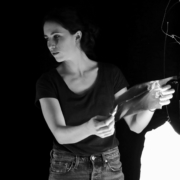 Raphaëlle Kerbrat
Artist-designer and doctoral student | École des Arts Décoratifs
After graduating from Beaux-Arts de Nantes in 2017, Raphaëlle Kerbrat joined EnsadLab's Reflective Interaction group as a student-researcher. She is currently preparing her thesis, with the support of La Chaire Arts & Sciences, on "The Weight of Data: Material and Perceptible Paradoxes of the Digital World." In her work, she is interested in the paradox of digital "immateriality" in relation to the hyper-materiality of the infrastructures that support it. The artistic systems she develops attempt to reveal "infra-ordinary" phenomena resulting from the use of digital technologies, via material utilization of their physical mediums. By confronting information processing systems with their own condition, they express the paradoxical and unfailing link between digital and analog, information and matter, and language and medium.
With the support from La Chaire Arts & Sciences, Raphaëlle Kerbratis supervises a research-creation module for 3rd- and 5th-year students at Ensad on "Behavioral Objects," a research theme developed by the Reflective Interaction group.
Find out more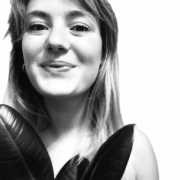 Anouk Daguin
Artist, performer and designer, doctoral student | École Polytechnique
Anouk Daguin's practice (installations, performances, design) explores the exchanges between humans and nature to create new narratives on the porosity of the world and the way in which the species that surround us communicate.
She holds a diploma from the Royal Academy of Fine Arts and Université Libre de Bruxelles and participated in an exchange with the Faculty of Architecture La Cambre Horta. Following an artistic residency at the Laboratorio latinoamericano de Bioarte at the Universidad de Maimonides in Buenos Aires, Anouk became interested in the relationship between arts and sciences in relation with our environment.
With the support of La Chaire Arts & Sciences, she did a six-month internship in the arts and sciences program of LadHyX at École Polytechnique, during which she explored how the imaginary and the learning of botany can redefine the ties between humans and plants. In September 2020, she began her doctoral research project "Multi-worlds – Sensitive interaction of the living sphere," with support from La Chaire Arts & Sciences and the LGPM laboratory of Centrale Supélec.
Find out more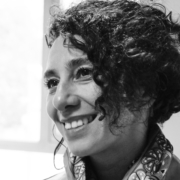 Aniara Rodado
Choreographer, artist, performer, doctoral student | École Polytechnique
Aniara Rosado pursues her choreographic practice beyond dance and beyond the human body, with the goal of questioning the current ecological crises at a time of techno-scientific fetishization. Originally from Colombia, she is currently a doctoral student in arts and sciences at École Polytechnique, with the support of La Chaire Arts & Sciences, for research on the interdependence of relations between the body and the plant world, in a trans-feminist perspective that values wizard and indigenous knowledge.

As part of her research, she and Jean-Marc Chomaz designed the "Becoming Plant" symposium held in October 2017 and created installations such as "Basic Transmutation / Alien-migration" (presented during the Night of Ideas event of 2020 at the Musée des Arts et Métiers) and "Flying Cream" (on the occasion of the "Poster-Brunch Hors d'œuvres" at Le Générateur in January 2020). Together with Jens Hauser, she was curator of the exhibition OU\ /ERT at Le Transpalette in Bourges in the fall of 2019. Her thesis defense will take place in the fall of 2021 in a public performance format, at the Ens Paris-Saclay Scène de Recherche.
Find out more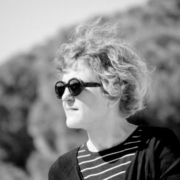 Ana Rewakowicz
Visual artist, doctoral student | École Polytechnique
Ana Rewakowicz was born in Poland and is an interdisciplinary artist who shares her time between Montreal and Paris. Her stimulating, interactive, and inflatable works explore our relationship with the environment. She is interested in issues of sustainability and technology as opportunities to create social transformations. She is a doctoral student in arts and sciences at École Polytechnique, with the support of the Cultural Council of Canada. Her research project "Mist Collector" develops reflection on alternative resources for recovering drinking water, based on several installations designed with support from La Chaire Arts & Sciences – LadHyX. It acted as the main theme for the international symposium "Garden the Sky Water" held in June 2019. Her work can be found in the permanent collections of MACRO (Rome), MAC (Montreal), MNBAQ (Quebec City), and Musée de Joliette (Quebec). She has exhibited in Canada, Europe and the United States.
Find out more