"Publicization" systems are used to "make research public" and to interact with and to mobilize the public via perceptive experience.
All these systems make it possible to break down the barriers not only between disciplines, but also between the "publicizer" and the public, who become players in the presentation. The systems have taken on multiple forms: renewing the concept of round table with "Dissect," in which a piece of furniture inspired by an anatomy table puts art objects at the heart of discussions; hijacking the codes of traditional poster sessions with "Hors d'oeuvres," a fun and tasty brunch shared with researcher and artist duos; and experimenting with the presence of online artwork with "Art Tease," an online exhibition that allows an installation to be activated remotely.
Web-based exhibition
Art Tease | ICRA-X 2020 | Online | June 1–4, 2020
The "Art Tease" web exhibition makes it possible to discover—remotely but in real time—an iconic robotic work by the Chinese artists Sun Yuan & Peng Yu exhibited behind closed doors in their Beijing studio. Art Tease is part of the "Robotics & Art" program of ICRA (International Conference on Robotics and Automation), the world's largest robotics conference.
From June 1–4, 2020, The "Dear" installation provides a continuous system designed to give artworks a remote presence, on the occasion of the online edition of the ICRA robotics conference, via the ICRA-X 2020 platform : https://www.icrax2020.org
Poster sessions
Poster sessions | The "Hors d'œuvres" poster sessions: Poster Brunch | Le Générateur | Gentilly | Flip the table over for an artistic and scientific Poster Brunch!
Sunday, January 26, 2020, on the occasion of the Sors de ce corps! ("Out of this Body") festival – As a performance component of the Nemo Digital Arts Biennial, seven artist/designer & scientist duos invite the public to share an atypical brunch along with the fruit of their collaboration. The "Hors-d'œuvres" audience dine on refined dishes and look at "table-posters" designed for the occasion by Grégoire Romanet. The 80 participants included researchers from the top French scientific institutions (including Polytechnique, CNRS, ENS, CEA, MINES, and ParisTech) and internationally recognized creators from the arts and design world.
Thinking – eating – showing and demonstrating: this Poster Brunch lightheartedly combines meal rituals, discussion, scientific communication and artistic performance, by joyfully reversing the scientific "Poster sessions." At each table, in between the aperitif and the gourmet coffee, a pair of researchers present their joint work and, with the guests, arrange its presentation system.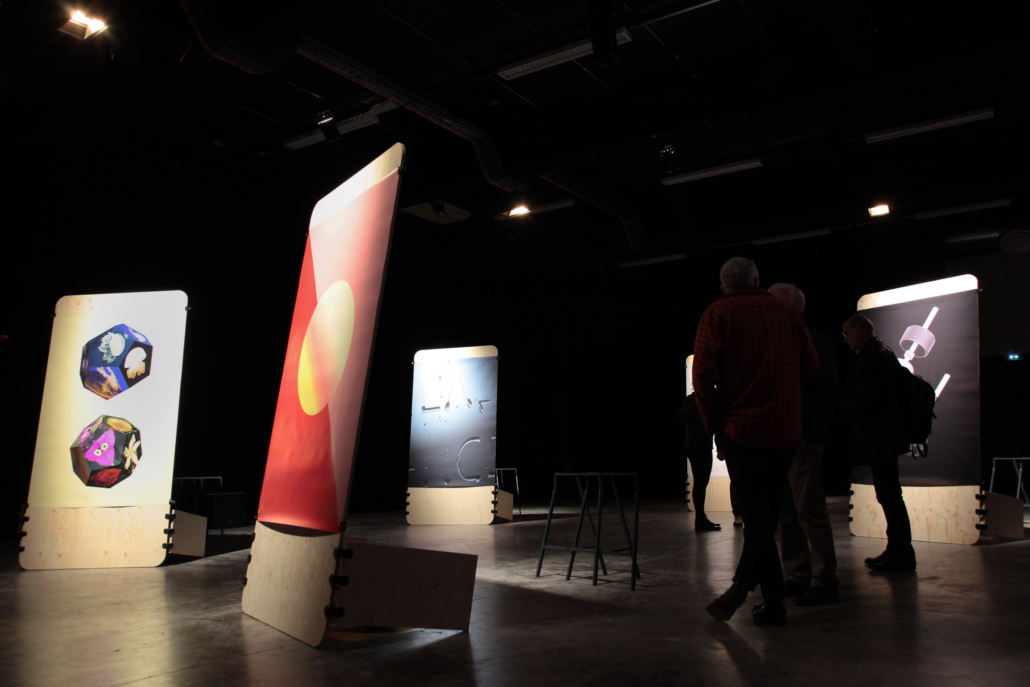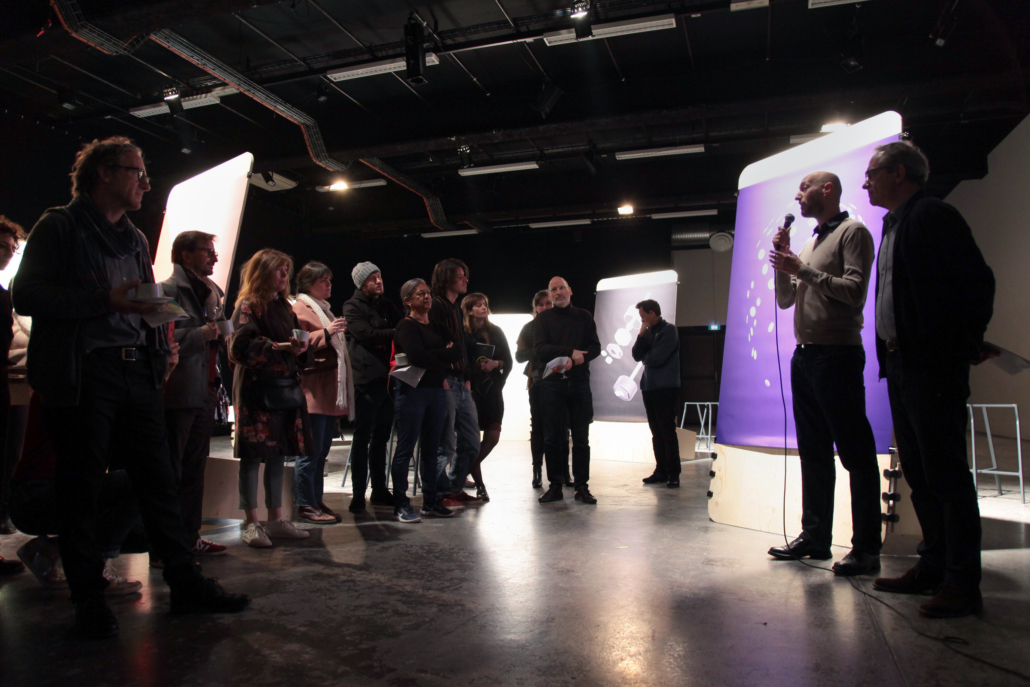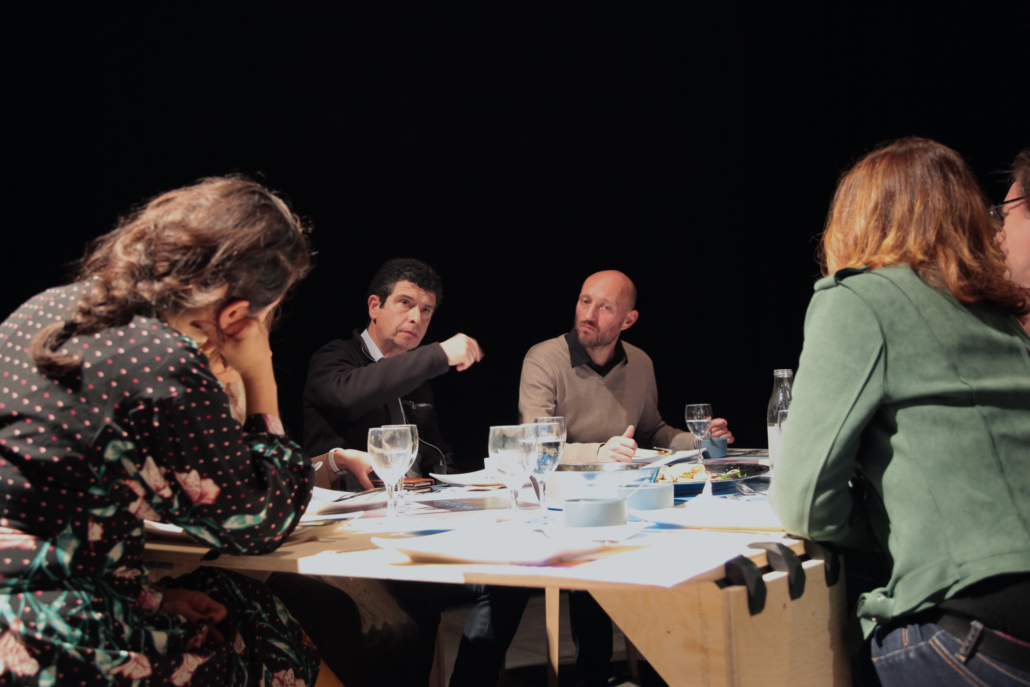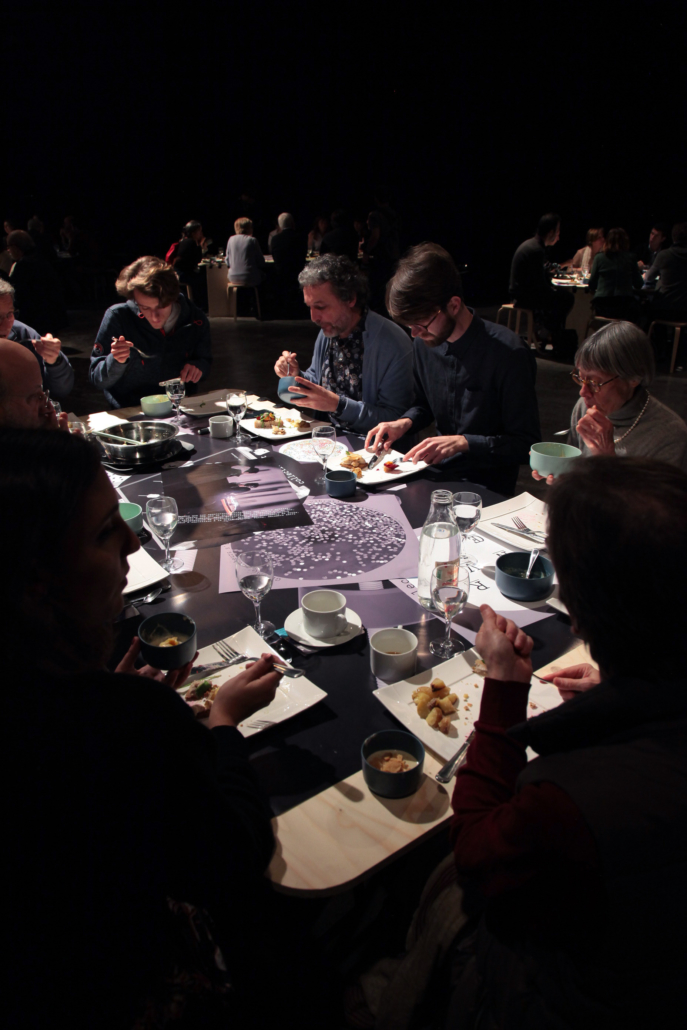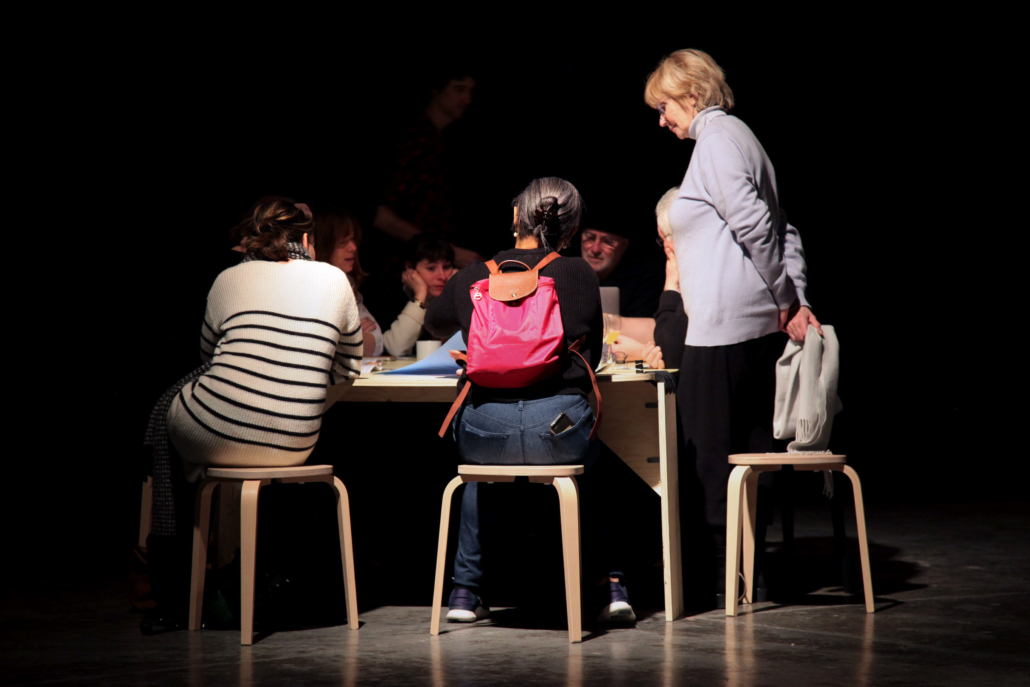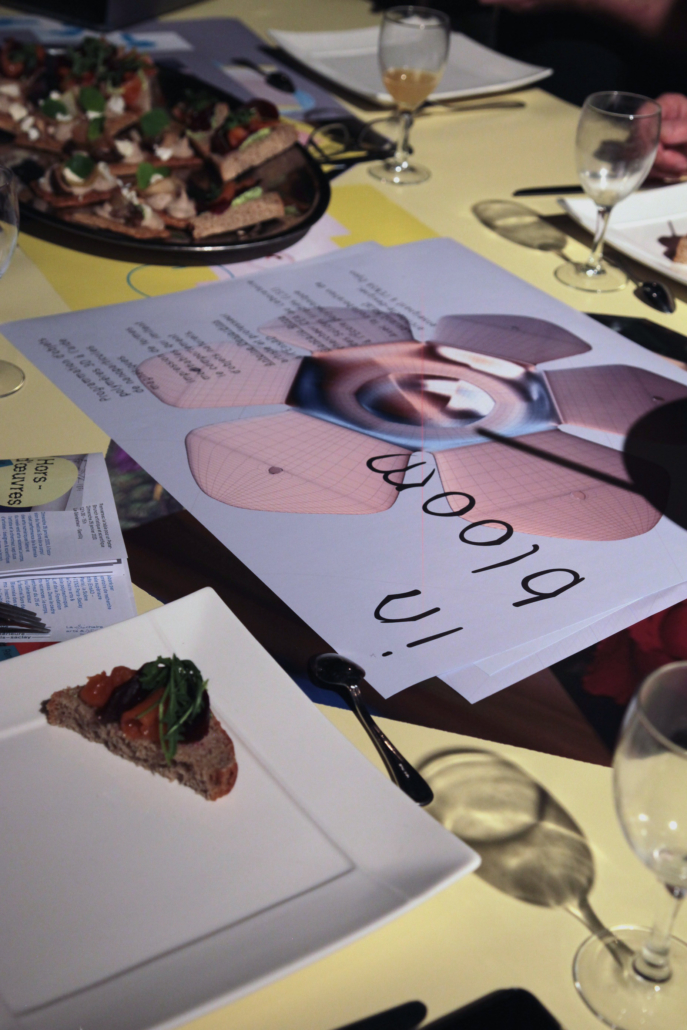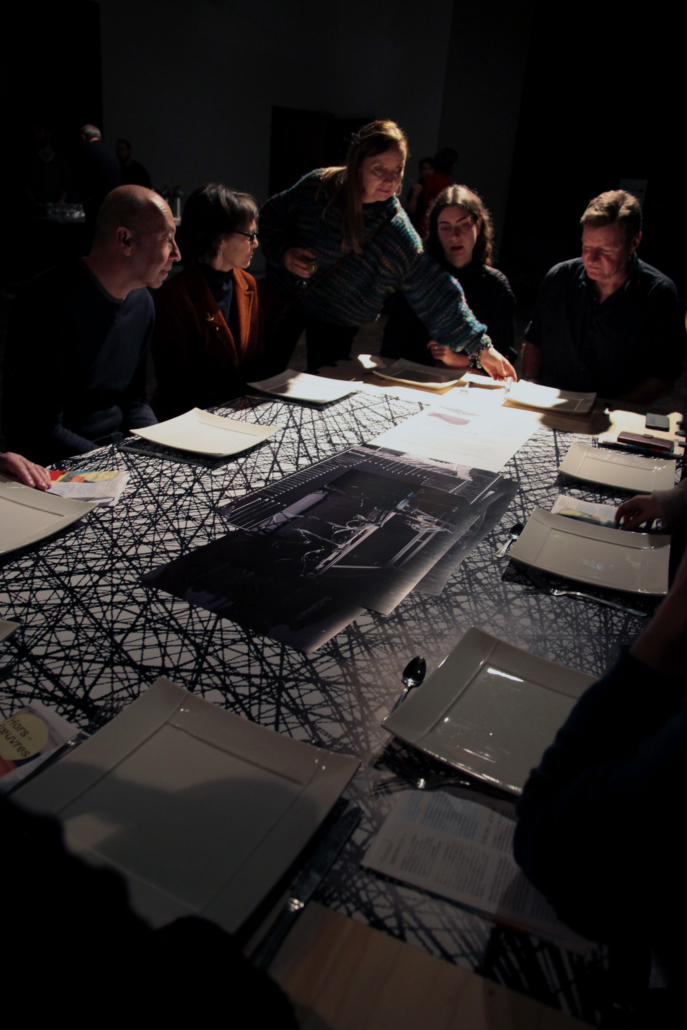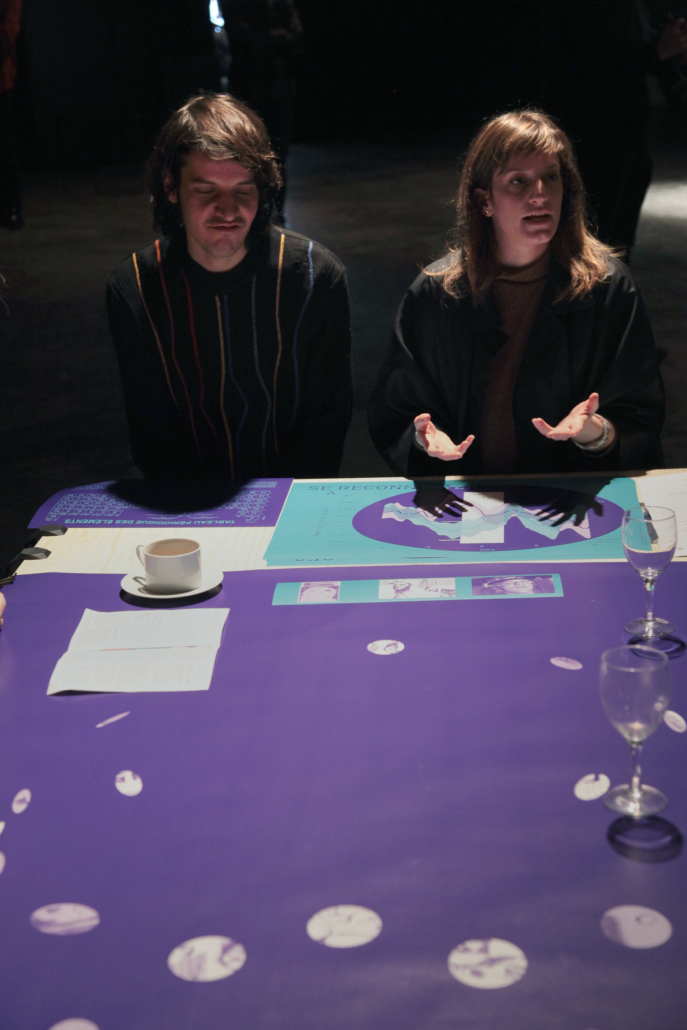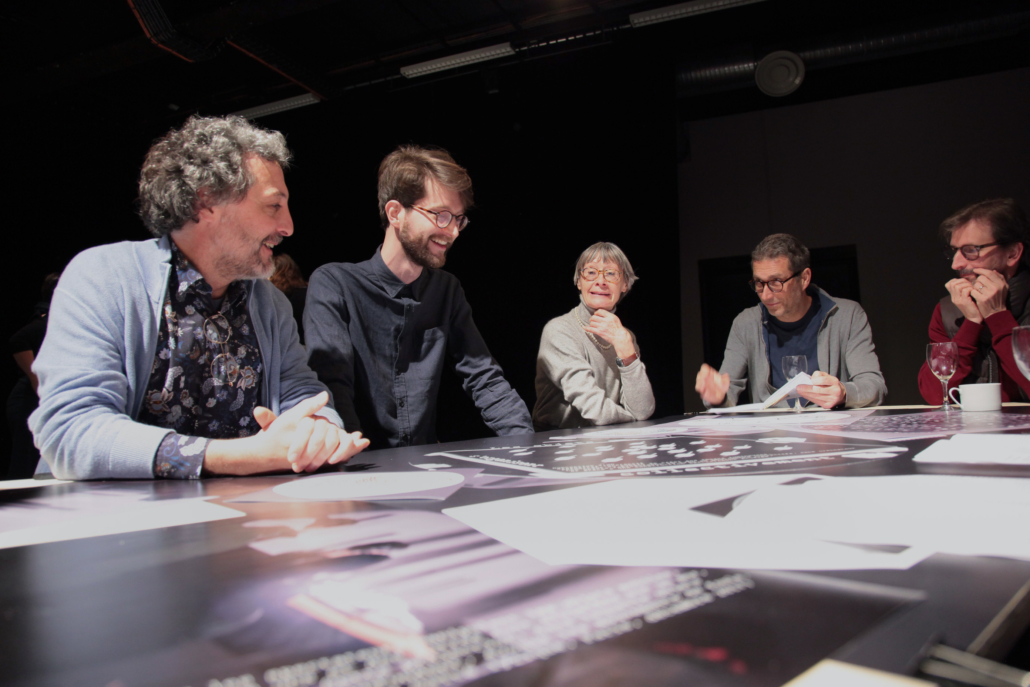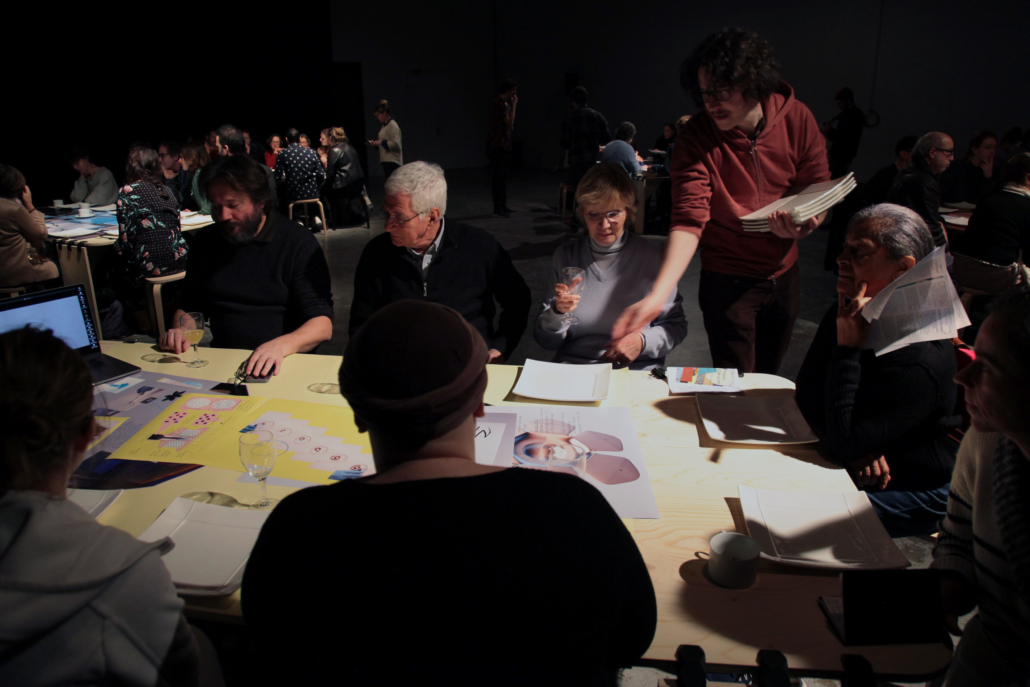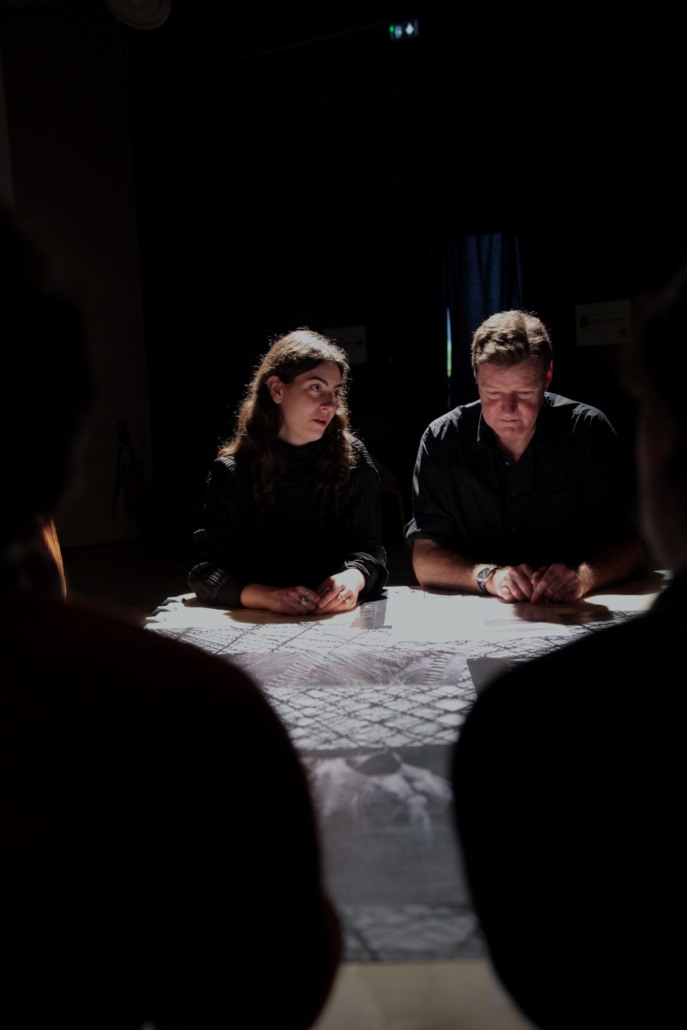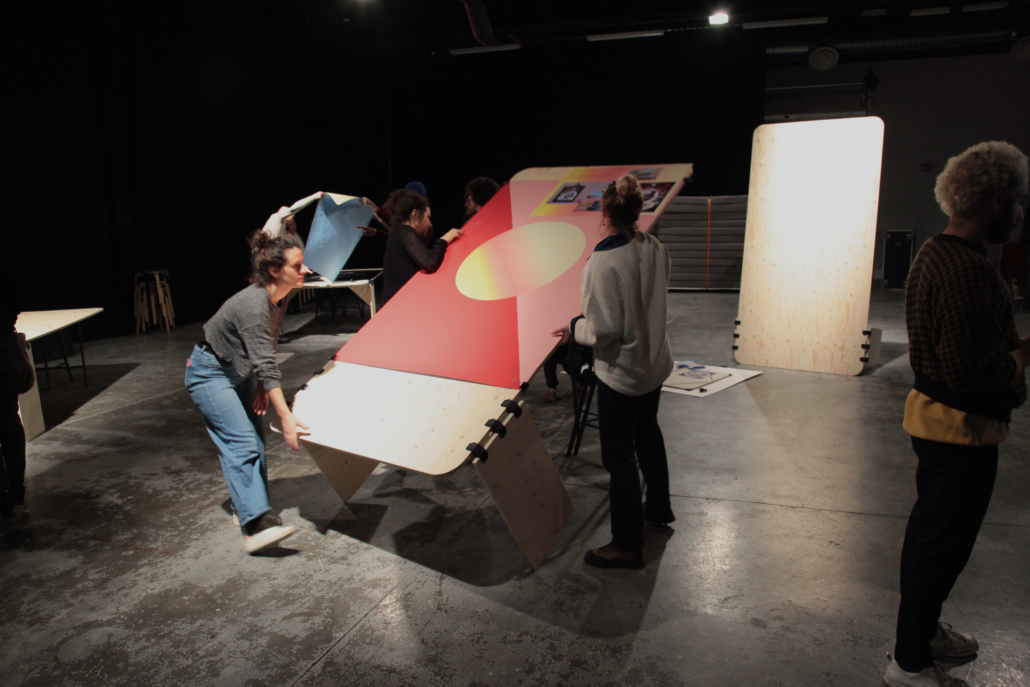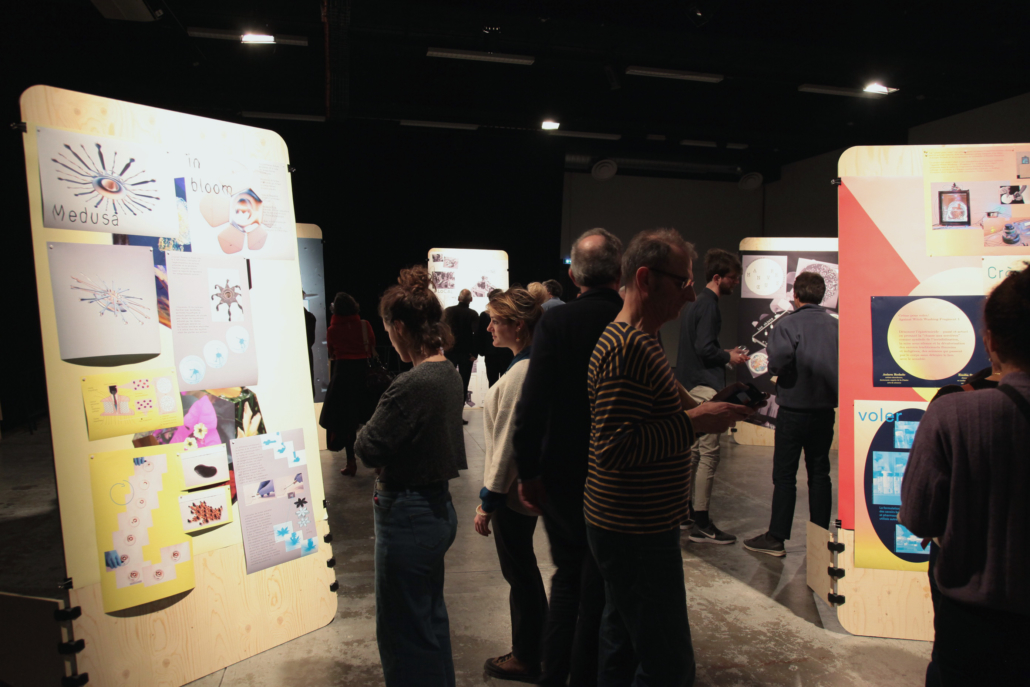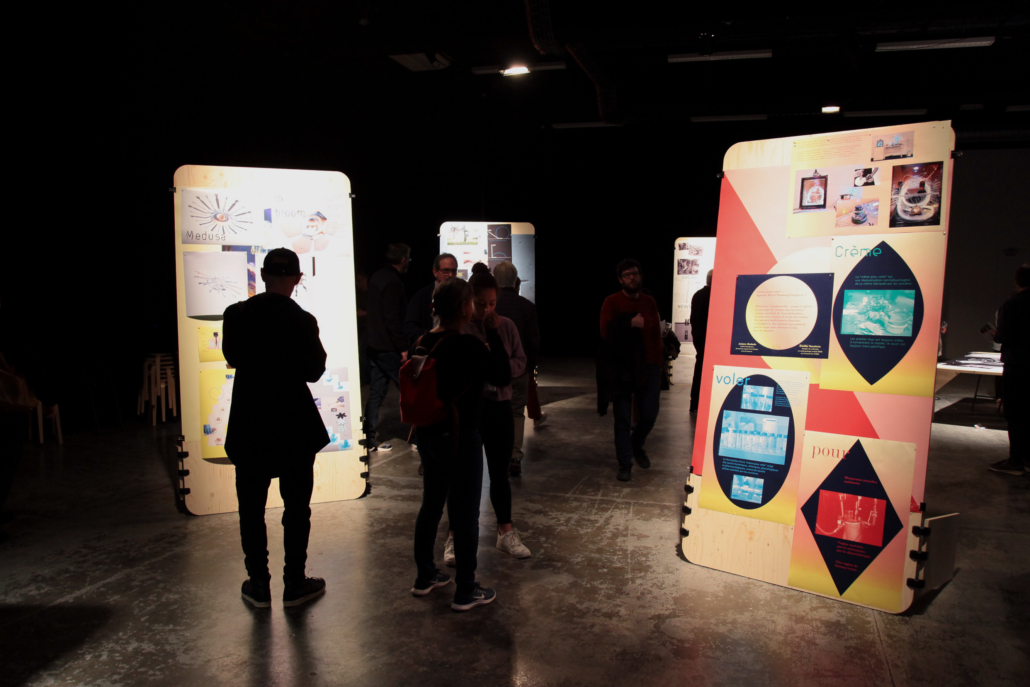 On the menu: materialization of dreams, ready-to-wear fashion design, "flying cream" inspired by wizard knowledge, 4D printing, drawings and letters with water drops, collective behavior of physical and tangible elements, a machine to produce one's own energy, and others.
Jeanne Vicerial & Yvon Gaignebet, Aniara Rodado & Emilia Sanabria, Justine Emard & Matthieu Koroma, Ianis Lallemand & Olivier Dauchot, Antoine Desjardins & Giancarlo Rizza, Samuel Bianchini & Pascal Viel, and James Auger & Anne Lefebvre (English-language table) share their most inspired interpretations of the Sors de ce corps! festival
Wild and vegetal brunch prepared on-site by chef Elsa Magne!

"Responsive Matter" poster sessions, experimental poster session

"We Are Not the Number We Think We Are" | Cité internationale des arts | February 2–3, 2018
1fff "Water swimming droplets: from free flow to confined geometries," Charlotte de Blois & al. presented by Olivier Dauchot and Charlotte de Blois
1fff "Magnetic suspensions of carbon nanotubes synthetized from hybrid materials", Juan Manuel Bermúdez-García & al, presented by Socorro Castro-García
1fff "Approche mécanique des Tessellations" ("Mechanical Approach to Mosaics"), Etienne Bossy & al.
1fff "Les possibles de la forme entre son écriture rigide par le code et sa réalisation plastique par la matière" ("The possibilities of form, between its rigid writing by the code and its visual realization by material"), Antoine Desjardin and Iannis Lallemand
1fff "Tensiometric characterization of superhydrophobic surfaces, as compared to the sessile and bouncing drop methods," Valentin Hisler & al, presented by Carole Ecoffet and Brice Ammar-Khodja
1fff "Rebonds" ("Bouncings"), Benoît Pype1fff "Reef : une nuée électro-active changeant au gré du vent" ("Reef : an electro-active cloud changing with the wind"), Aurélie Mossé
1fff "La soie de la mer, matière à interprétation" ("Silk of the Sea: matter for interpretation") Patricia Ribault
"Dissect" is freely inspired by anatomy lessons. It seeks to analyze and discuss contemporary works of art and design presented and handled using an original interactive stage design that renews the traditional format of round tables.
The artworks are—like bodies used for science—the focus of the exchanges, via the perspective of guests from various disciplinary fields, in a shared public system.
Dissect #1
Centre Pompidou | March 29, 2019
The first edition of "Dissect," which was held in conjunction with the exhibition "Designing the Living", focused "on the living with the living," with works by EcologicStudio (Claudia Pasquero and Marco Poletto) and contributions by Marie-Sarah Adenis (designer and biologist), Frédérique Aït-Touati (historian of science), Claire Brunet (philosopher), Emanuele Coccia (philosopher), Olivier Dauchot (physicist), Manuelle Freire (researcher in research-creation), Emanuele Quinz (historian of art and design) and Patricia Ribault (historian and theoretician of Gestaltung).

Dissect #2
Paris Photo 2019 | November 10, 2019
Like the works of Meghann Riepenhoff, the artwork presented on stage, on an "operating table," include performative processes. But instead of discussing things, it's a question of discussing with them, by combining words, gestures, and objects in a shared public system.
On the occasion of Paris Photo 2019, Emmanuel Alloa (philosopher), Federica Chiocchetti (writer and curator), Luce Lebart (photography historian and curator), Emanuele Quinz (art and design historian), Pascal Viel (chemist), and Dork Zabunyan (art and film historian) look at Meghann Riepenhoff's works, in the presence of the artist.
Mobilier de prise de parole
Furniture for public speaking | Assises du Design | Centre Pierre Mendès-France, French Ministry for the Economy and Finance | December 11, 2019
A stage system for public speaking.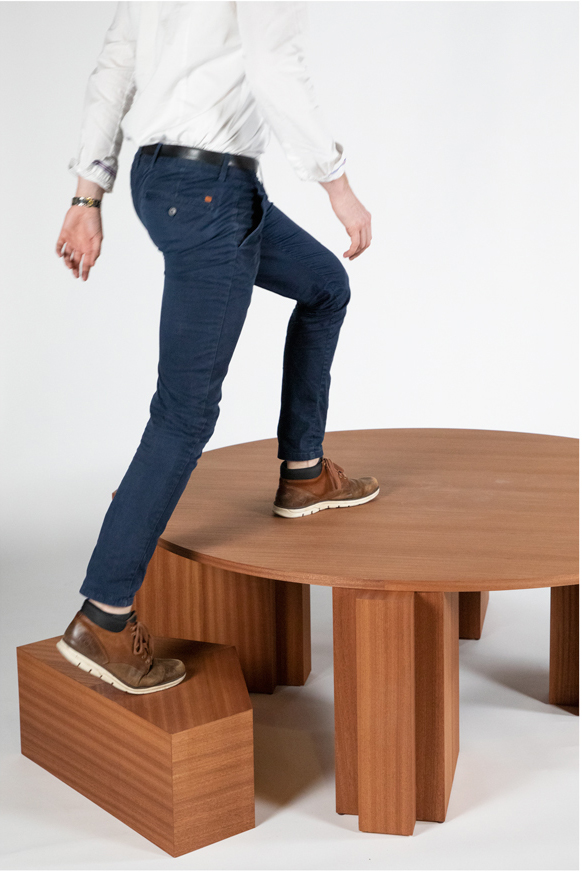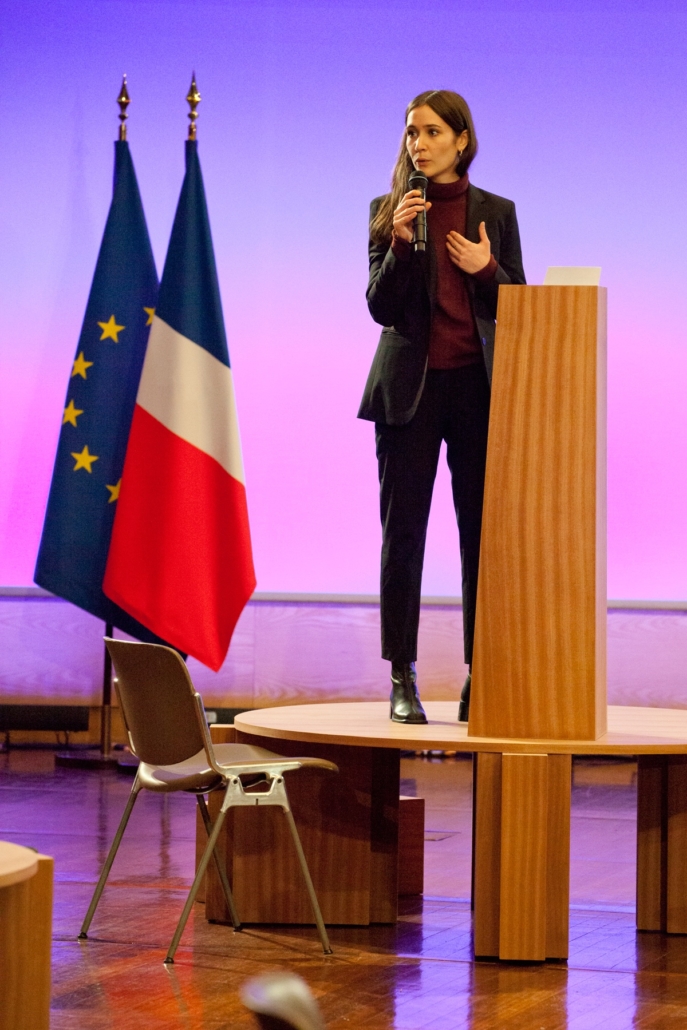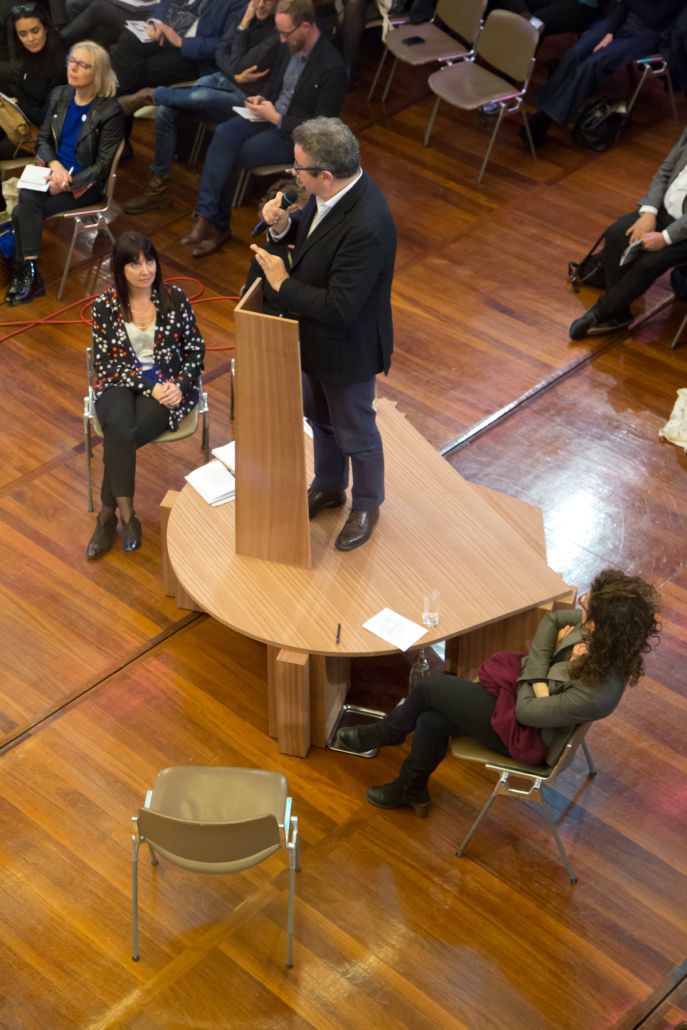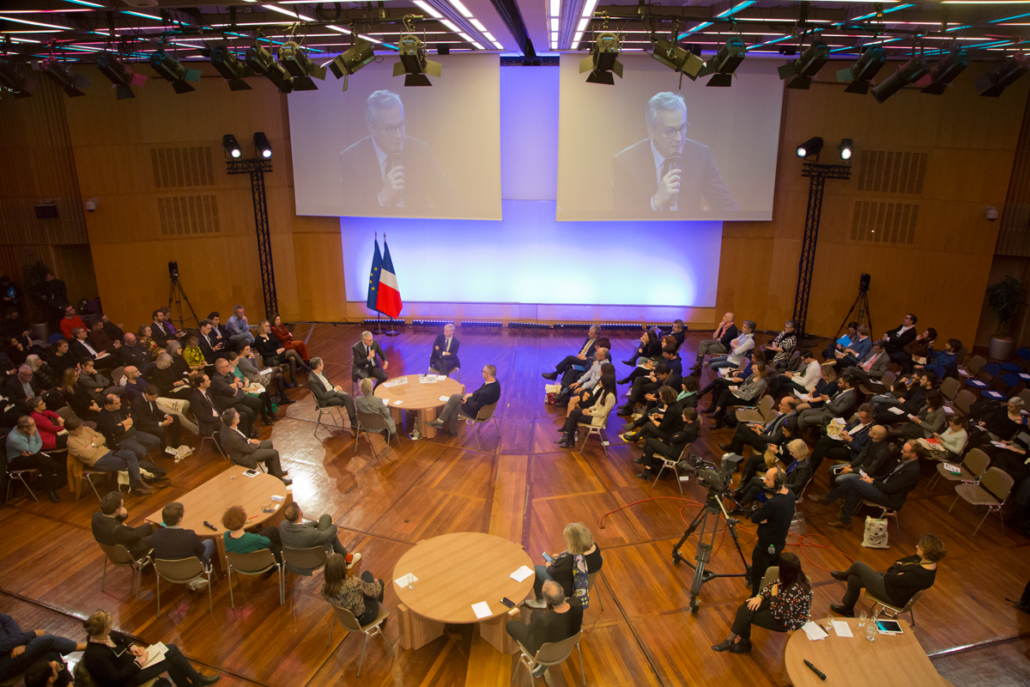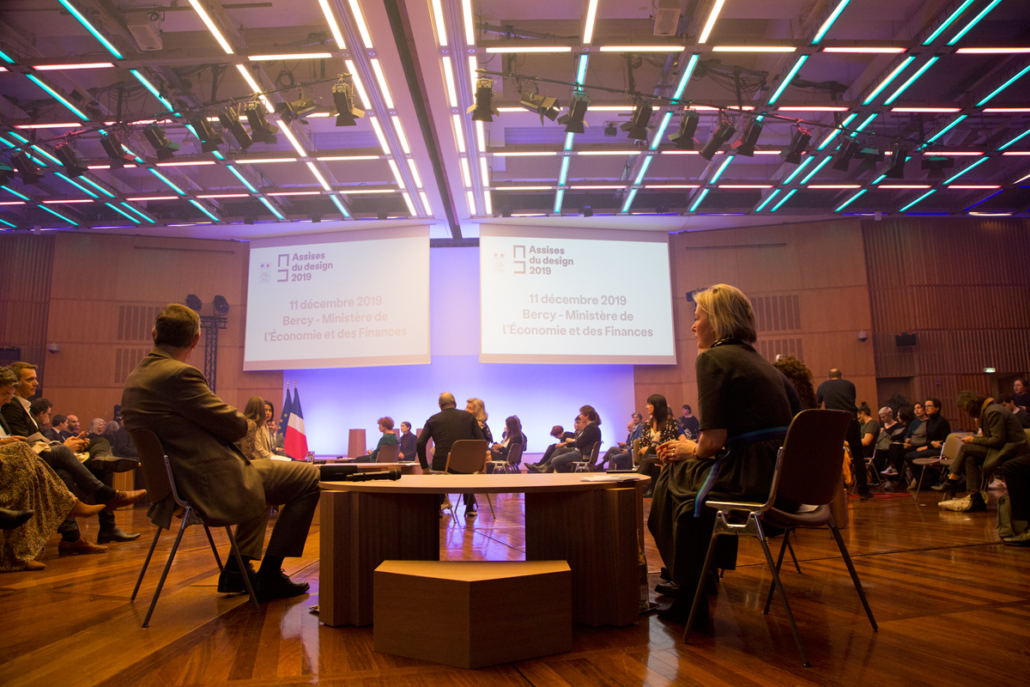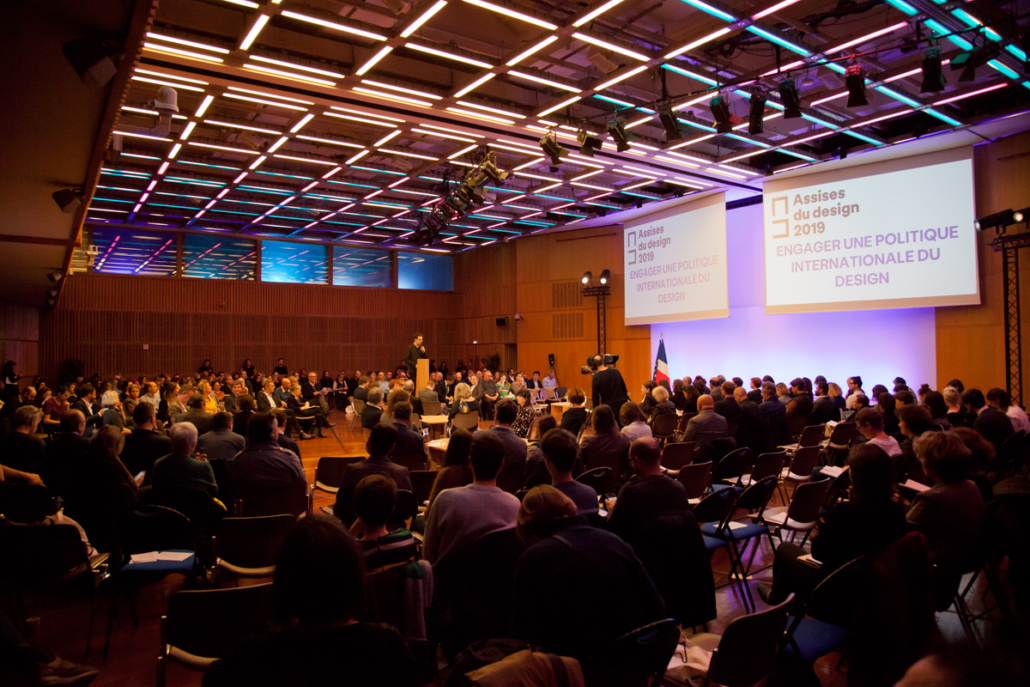 A report on the role and future of design in France is the subject of a public presentation. But this raises a question: How can we give this oral presentation an original form? How can we "design" the Assises du Design? How can we give the floor to a person to speak, and then to the next person, and how can we speak out in a public arena, with the goal of giving a more effective voice to the need to develop the discipline of design?
This system is based on the creation and coupling of two objects with oscillating functions and symbolism: a low table that can become a stage and a mobile lectern that is easily transferable and that confers authority to the various speakers in turn as well as to the audience.