Useful fictions : an intensive week of collaboration between artists, scientists and designers in order to create new narratives about ecological thinking, by re-evaluating the notion of measurement, considered here as a "useful fiction" but not a definitive or absolute one.
A first partnership between the Universities of California (UC Davis, UC Irvine and UCLA) and École Polytechnique (Institut polytechnique de Paris)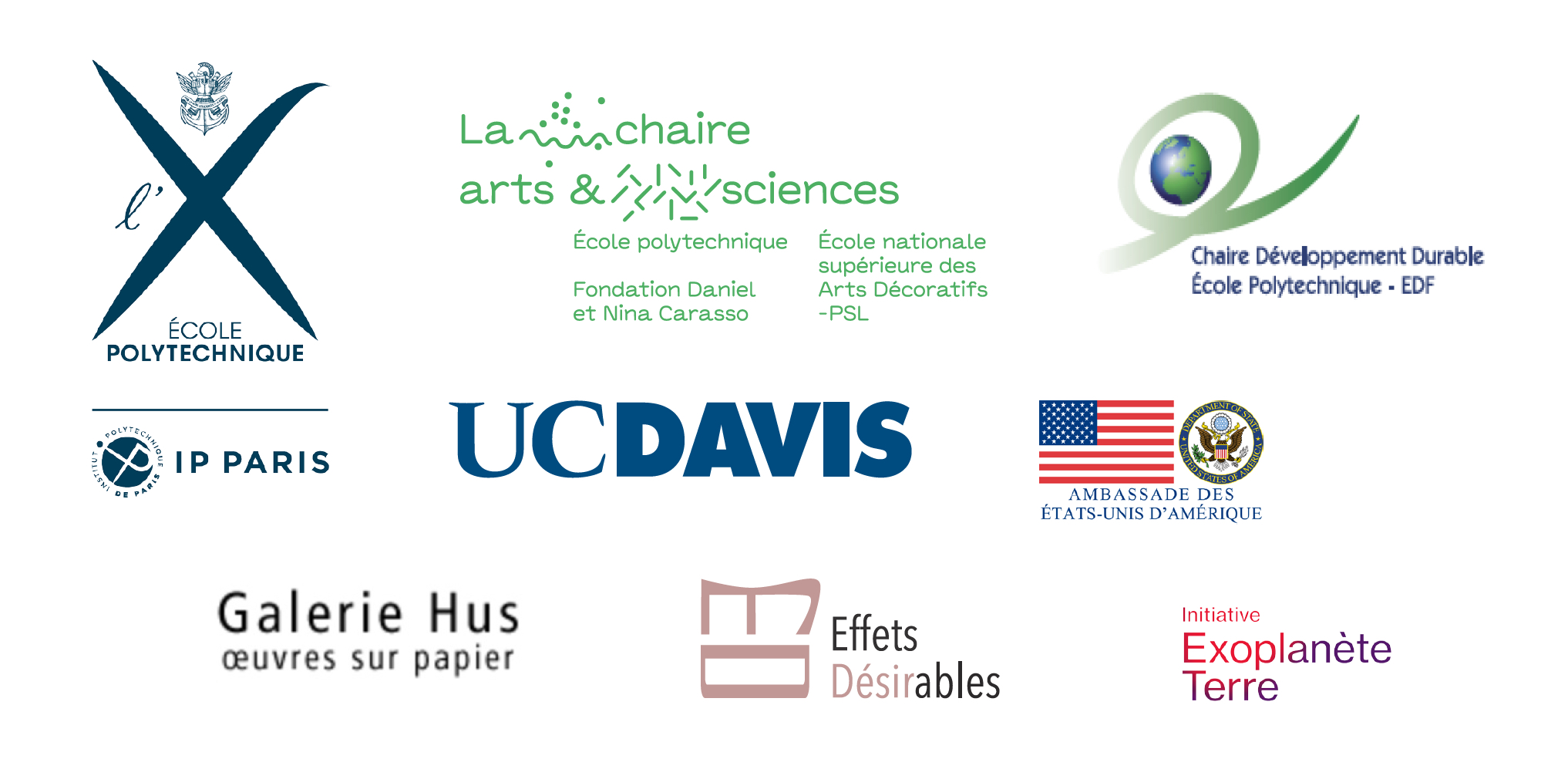 1fffffff
The "Useful Fictions" symposium is composed of two parts
Useful Fictions is the first international arts and sciences workshop held at École polytechnique, as an extension of the "Behavioral Matter" event (March 2019) at the Centre Pompidou, organised by the École nationale supérieure des Arts Décoratifs (EnsAD-PSL), with the support of the Chaire arts & sciences.
The event promotes a joint work between scientists from all disciplines (human and social sciences, natural sciences), artists and designers, aiming to produce academic reflexion and experimental artefacts.
Participants were divided in 5 working groups :

1ff LAB 1 : CLIMATE MEASUREMENTS, at the Site Instrumental de Recherche par Télédétection Atmosphérique (SIRTA) Observatory, Institut Pierre Simon Laplace (IPSL) 


1ff LAB 2 : A MICROCLIMATE OF ONE, at Laboratoire d'hydrodynamique (LadHyX)


 1ff LAB 3 : 4D ADDITIVE MANUFACTURING: FROM PRINT TO ANIMATION at Laboratoire des Solides Irradiés (LSI)

1ff LAB 4 : DATA MATERIA at Fab X-Novation, Drahi Center

1ff LAB 5 : MAKING, ENGAGEMENT & REFLEXIVITY (collective social sciences)

1fffffff
As part of these public meetings, several personalities from the art & science world presented creations and performances:
1fff CREDITS
This project was initiated thanks to a grant from Global Affairs International Activities with matching funds from the College of Letters and Science and the Office of Research at the University of California, Davis, and the Chaire arts & sciences at the École Polytechnique, École nationale supérieure des Arts Décoratifs – PSL and the Daniel and Nina Carasso Foundation.
Head: Jiayi Young (UC Davis), co-heads: Jean-Marc Chomaz (École Polytechnique), Timothy Hyde (UC Davis) and James Crutchfield (UC Davis), collaborators: Victoria Vesna (UCLA), David Familian (UC Irvine), Asa Calow (Madlab, Manchester, UK). Since its inception, additional funding has been provided by the Chaire arts & sciences.
The development of the project also benefited from the generous support of Samuel Bianchini and Manuelle Freire of the Chaire arts & sciences and the Reflective Interaction group of EnsadLab (EnsAD's research laboratory, PSL), and David Bihanic (Université Paris 1 Pantheon Sorbonne / EnsADLab – Reflective Interaction). Design of the Speed of Light / Speed of Shadow Expedition : Tim Hyde, Jiayi Young and Jean-Marc Chomaz. The project is also supported and co-organized by the Chaire Développement Durable of the École polytechnique.
Guest Editors and Advisors: James Housefield (UC Davis) and Jens Hauser (Michigan State University)
Head of Communication: Julie Sauret
Student interns: Ragnhild Ståhl-Nielsen, Alice Magdelénat
https://chaire-arts-sciences.org/wp-content/uploads/2020/07/La1fffffffffffffffffffffffchaire-arts-1ffffffffffffffsciences@2x-400x125.png
0
0
Julie Sauret
https://chaire-arts-sciences.org/wp-content/uploads/2020/07/La1fffffffffffffffffffffffchaire-arts-1ffffffffffffffsciences@2x-400x125.png
Julie Sauret
2019-08-26 17:39:15
2019-11-15 11:47:22
1ffffffff Useful Fictions : International art & science Symposium, École polytechnique, 9-15.09.19